Heeeeeeeeeeeeeeeehehehehe the winners for Round 1 at the
bigbad_awards
are now posted!! LOOOKIE!!
This was a rockin round, thanks a BATRILLIONMILLION to all the judges who took part, and busted there asses to get the results in. HEE! And a huuugeo thanks to everyone who nominated, cause without ye thered be no round lol!
Im really satisfied with the judging methods here, and despite it being waaay more time consuming, having it anonymous really does seem to make a difference. :D HEE!! It focuses purely on the quality of the fic, and not so much on who wrote it. So yay!!
NOTE 1:
The judges have to fill out judging form, from which the results are toted up. The form is broken down into different sections, like for example: spelling; characterisation; plot; scene description etc. So, if anyone would like to see their form, i can email it out. This is PURELY to enable writers/manippers to see the areas their fic/pic did well in, and areas that need improvement. Its purely for concrit purposes, so the
names of the judges and the scores of the other entrants will NOT be given out, just your own score
.
NOTE 2
: Some judges kindly gave judges comments (it was an optional..er.. option) So these will be emailed to the relevant people tomorrow :D
NOTE 3:
If theres any broken links or wrong usernames, both on the awards and in the links, Pleeeeeeeeease let me know, mistakes do happen. >.< Ill fix them no problem.
Just email me if youd like to see it :D
CONGRATULATIONS EVERYONE!!!
SLAYER'S BLOOD AWARD - BEST OF THE BEST

Winner:
Sock Puppet by
shadowscast
Runner Up:
Canis Familiar by
sockmonkeyhere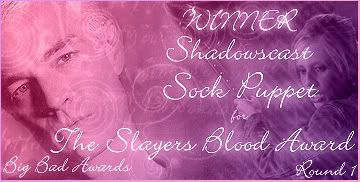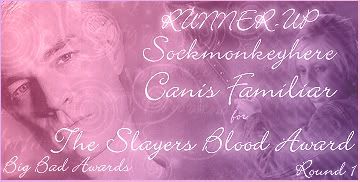 BLOODY HELL AWARD - BEST SPIKE VOICE


Winner:
Good Friday
by
Kat Leon
Runner Up:
Manifest Destiny
by
uisge_beatha
BAG OF BLOOD AWARD - BEST DRABBLES N FICLETS


Winner:
Flip, Click
by
kats_meow
&
saturngirl1974
Runner Up: Th
The Thing About Magic
by
jans_intentions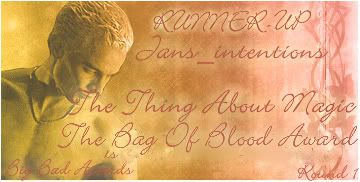 THE AB NEGATIVE AWARD - BEST RARE PAIRING


Winner:
In Dreams
by
sockmonkeyhere
Runner Up:
In (Discretion)
by
thatotherperv
THE 0 POSITIVE AWARD - BEST SPUFFY


Winner:
Fix You
by
enigmaticblue
Runner Up:
Silently Broken
by
ciley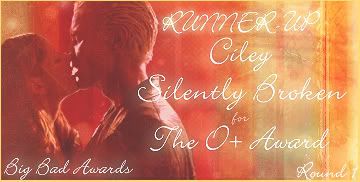 BLOOD OF THE SIRE AWARD - BEST SPANGEL


Winner:
Bent Justice
by
toobusy2write
Runner Up:
The Small Places
by
girlpire
BLOODY NUMMY TREAT AWARD - BEST SPANDER


Winner: Theres Always A Sneer In Vegas by
stillrose
Winner: Repossession by
lazuli_kat
Runner Up: Bitter Casualties by
spikeskat
PLATELET AWARD - BEST SPAWN


Winner:
Let The World Spin
by
wesleysgirl
Runner Up:
Descent
by
c_woodhaven
Runner Up:
Bending Spaghetti
by
deadsoul820
aka Dead Soul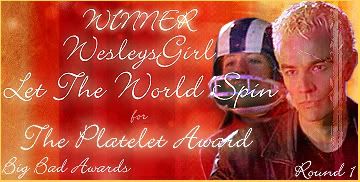 BLOOD RED AWARD - BEST SPILLOW


Winner: The Dollhouse by
velvetwhip
Runner Up: Closer by
purplefeen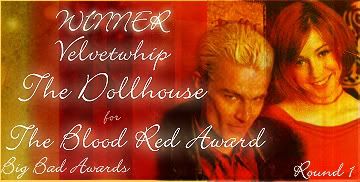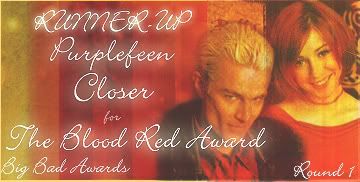 BLOOD BROTHERS AWARD - BEST SPILLIAM


Winner: Memories Lost, Memories Gained by
spankspike
Runner Up: Doppleganger Series by
lilithbint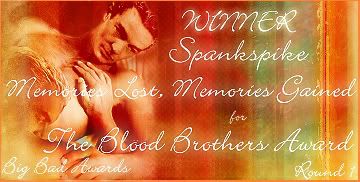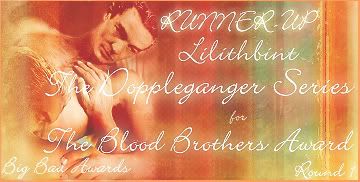 BLOOD THIRST AWARD - BEST PRE-CHIPPED SPIKE
Winner:
O Little Breath Of Oblivion
by
deadsoul820
aka Dead Soul
Runner Up:
Family Reunion
by
shapinglight
BLOODY LEASH AWARD - BEST CHIPPED/SOULED SPIKE
Winner: Chain by
irfikos
Runner Up: Beneath Us by
clawofcat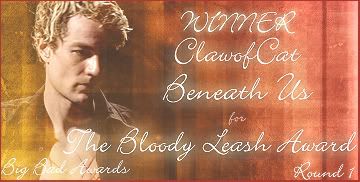 PURE INNOCENT BLOOD AWARD - BEST WILLIAM


Winner:
Honeymoon
by
alia
Runner Up:
Forward To Time Past
by
unbridled_b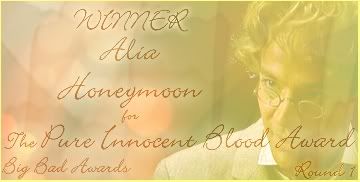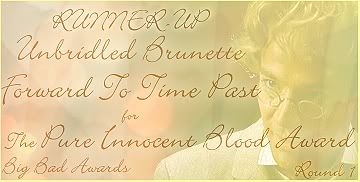 BLEEDING FOR YOU AWARD - BEST SPIKE TREATED BADLY IN A SHIP


Winner:
Boys and Girls
by
dreamsofspike
Runner Up:
Angel Of The Morning
by
speakr2customrs
BLOOD IS LIFE AWARD - BEST VAMPING FIC


Winner:
Lullaby
by
spikesfool
Runner Up:
Dangerous
by
harmonyfb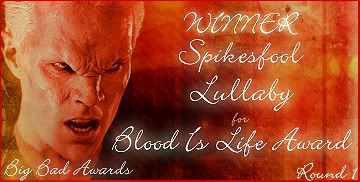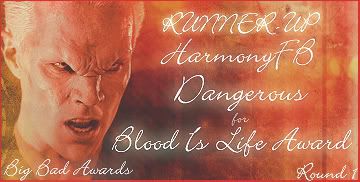 ~
Part 2
~
~